Laser skin resurfacing uses energy from lasers to remove the top layer of skin and stimulate the body's natural collagen production. New laser systems allow Las Vegas plastic surgeon, Dr. Christopher Khorsandi to remove one layer of skin at a time until the patient's skin concerns (wrinkles, acne scars, age spots, and more) are removed or greatly minimized. Dr. Khorsandi uses two different laser systems for skin resurfacing at his office, the Fraxel DUAL and the RevLite SI. Both systems are safe and efficient, so Dr. Khorsandi can chose which system will be best for his patients' needs and goals.
Laser Skin Resurfacing Reviews
"I came in for the Clear and Brilliant twice now and the effects from it have been amazing. Not only was the procedure a success but Dr. Khorsandi was excellent as well. He made me feel relaxed and comfortable. I will absolutely continue to go see Dr. Khorsandi in the future."
- M.K. /
Google /
Mar 28, 2014
"At first, I was hesitant and nervous about the experience but after speaking to the practice manager, Catherine, on the phone, I became extremely interested and decided to come in for a consultation. The doctor ended up doing a clear and brilliant laser treatment on my skin and I noticed immediate results. My skin is so much brighter and softer in just one treatment; I cannot wait until my second treatment in two weeks. After clear and brilliant, I decided to do Thermage Skin Tightening for my face. This treatment is amazing. I noticed my skin is tighter and lifted as the treatment is being performed. My family and friends noticed the changes immediately. Dr. K is a skillful plastic surgeon and I recommend him to everyone. His staff made me feel so comfortable throughout this entire experience and I cannot wait for more treatments soon. Catherine is great, she will give you her cell phone so you can contact her anytime. "
- E.L. /
Google /
Mar 28, 2014
"January 28th, 2015. I went in to VIP Plastic Surgery to get Ulthera done on the lower half of my face and neck. The procedure was done by Dr. Khorsandi himself, I felt minimal discomfort while he was doing the procedure. At every moment he would ask how I was feeling to make sure I was comfortable. This procedure required no down time I returned to work the next day. i know it Usually takes a couple months to see the full results, but I am very please with all of Dr. Khorsandi's work."
- 4. /
RealSelf /
Feb 07, 2015
"I always buy my skin care product at their office and it works AMAZING! Patricia always takes care of me when I go there and she treats me so nice. I always feel welcomed when I go there and I'm going to continue buying my skin care product from them. Hopefully get something done as well!"
- K.P. /
Yelp /
Apr 27, 2015
"VIP Plastic Surgery is a very well maintained facility. The staff is very welcoming and the environment is very friendly and pleasant. The front desk receptionist Patrica was such a doll. She was very attentive, and the concern of my skin disorder was mutual. She recommended Obagi Skin Care Products and it has been magic on my skin, I will definitely be a continuous customer for this product. Not only was the product great but her customer service was tip-toe! She called me two weeks after purchasing the product to see how it was working for me. It was such an appealing customer service experience. She also assisted me with very informative and detailed answers to my questions in regards of a breast augmentation, as well as setting me up for a consultation with Dr. Khorsandi's I am very excited for this procedure! I have seen some of his work and it's just outstanding! "
- C.P. /
Google /
Apr 27, 2015
Previous
Next
Introducing Clear & Brilliant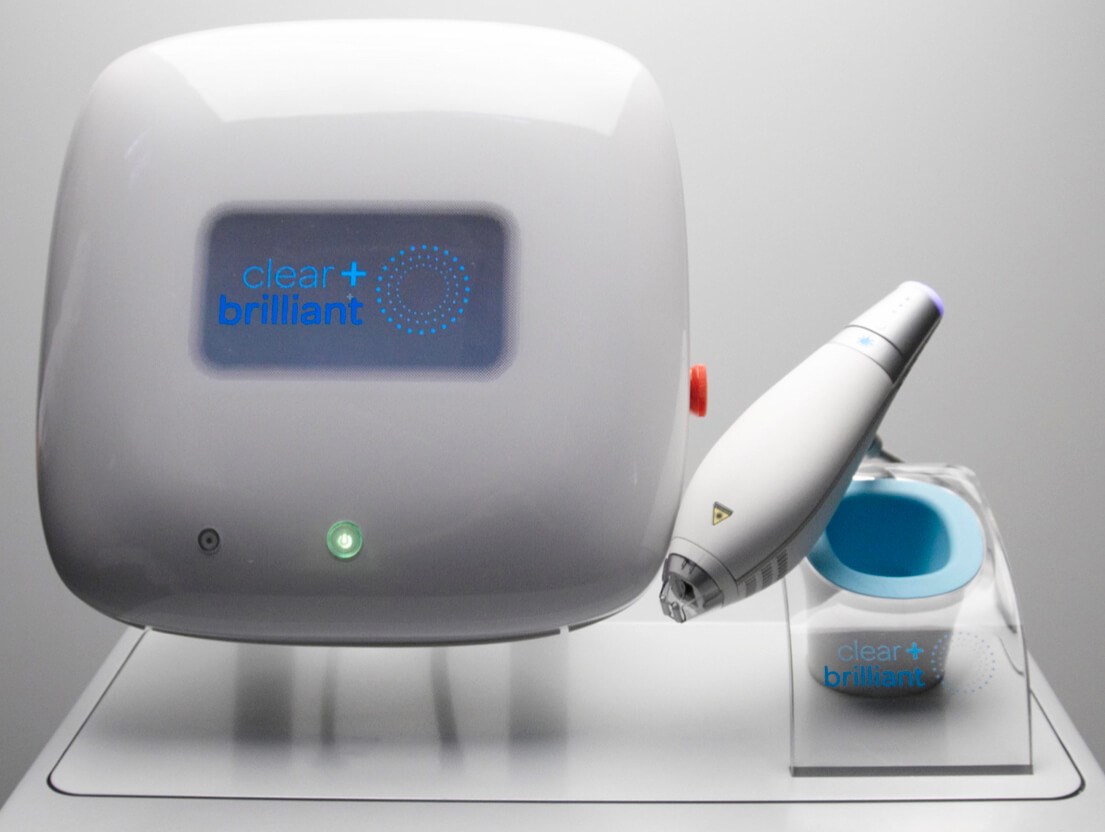 Clear and Brilliant is a new generation of laser treatments that uses a laser to help brighten the skin, reduce the size of the pores on the face, and help improve the overall texture. It can also be used as a preventative measure to combat the signs of aging. Patients looking for a way to boost the skin's appearance that is more effective than topical creams and lotions alone, may consider this treatment as a part of their ongoing regime. Because Clear and Brilliant uses a fractional laser, there is no downtime.
The Fraxel Dual laser system includes two different lasers that provide non-ablative skin resurfacing for the treatment of mild to sever skin damage. The Fraxel system targets skin that has been damaged by the sun and aging with a focused laser that carefully removes skin tissue a healthy layer of skin is revealed. The Fraxel also encourages natural collagen in the body, so patients will continue to have smoother, softer skin after their treatment.
The RevLite SI uses a Nd:YAG laser with multi-wavelengths to quickly treat skin concerns. The RevLite performs non-ablative skin resurfacing, which can reduce wrinkles and acne scars as well as pigmentation problems. The RevLite can also be used for laser tattoo removal.
Laser skin resurfacing uses controlled light beams with high intensity to vaporize and remove the upper layer of the skin. When the damaged, superficial skin is removed, it gives way for new skin to grow, which masks the face with a new layer of epidermis. Any pain during the procedure is managed with local anesthesia and/or sedatives to help the patient relax. The eyes will also be protected since lasers can be harmful to the patient's vision. Laser skin resurfacing's advanced technology allows accurate targeting of smaller areas so the surrounding skin is not affected. A session may take up to 2 hours depending on the patient's skin conditions.
The average price for laser resurfacing ranges from $1,000 to $2,500. The range depends on the type of laser used and the size of the treated area. Additional costs include medications, doctor and facility fees, or any additional treatments needed. Insurance companies rarely cover any treatment that is cosmetic in nature. If the total cost is more than expected, it may be worthwhile to check other financing options the clinic may offer.
Ablation vs. Non-Ablation
Laser skin resurfacing may be aggressive, depending on the patient's aesthetic goals. The more aggressive the treatment (which is referred to as an ablative procedure) the more it wears away the epidermis to let new skin regeneration begin. Recovery with this technique may take up to 3 weeks. The lighter treatment, or non-ablative laser, does not remove any skin. It stimulates deeper layers of the skin to initiate an increased growth of collagen. With this treatment, there will be no downtime for the patient. Both techniques help the skin regenerate. As new layers of skin are developed, skin problems such as wrinkles, mild scars and discoloration are minimized.
During/After the Procedure
Laser resurfacing is an outpatient procedure. There may be pain during treatment, so local anesthesia can be used to minimize the patient's discomfort. The doctor may also prescribe the patient a pain reliever after the procedure. The face may be bandaged after treatment. Since the epidermis is peeled away, the skin may appear red for several weeks. As it heals, crusting may be present. It is very important to follow the doctor's advice on skin care to prevent any scarring. It may take a few days before the patient can resume normal activities. It may also be beneficial to use an extra pillow when sleeping to ease any discomfort.
Plan Your Procedure
Average Cost

$350

-

$2,000

Recovery Time

1-7 Days

Average Procedure Time

1-2 Hours

Post-op Follow-up

1 Week

Procedure Recovery Location

Out-Patient
Contact Us
Laser Skin Resurfacing FAQs
Negative Effects on Skin?
Although the procedure will wear the skin surface away, there is a minimal risk of scarring, especially when post-treatment care is implemented. It is critical to find a reputable doctor or technician with comprehensive experience with laser skin treatments. It's important for the surgeon to understand different technologies affect different skin types. When done correctly, the result is a long-lasting healthy skin effective in combating signs of aging and skin damage.
Aside from the natural effects of aging, personal habits and environmental factors, results can be long lasting. Maintenance treatments may be considered as signs of aging get more and more significant over time.
Ablative or Non-Ablative?
It depends mainly on the patient's skin condition and cosmetic goals. Another factor to consider is how quick the recovery period should be or if there should be no downtime for the patient. The doctor will discuss each treatment in detail and recommend the best approach that matches the patient's circumstances.
Related Procedures