Facial Fat Grafting to Treat Facial Aging, A Facelift Althernative*
Procedure Details
This patient wanted to restore the volume and help reshape her face. She was not interested in a facelift at the time, but was unhappy with the loss of volume in her cheeks. Using liposuction fat taken from her abdomen and love handles, the patient was able to obtain a more youthful appearance.
More
Before and After Fat Grafting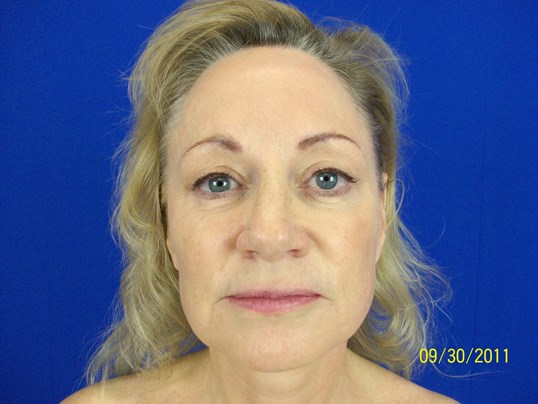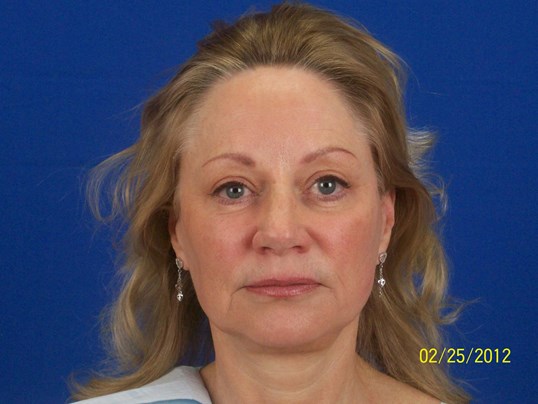 Notice the fuller midface and more heart shaped face that the patient has after fat grafting. This is one of the characteristics of a youthful face that is lost in aging. More
The heart shaped face ...
One of the ideals of beauty is the heart shaped face. This notion is seen when the cheeks are full and the chin is narrow. Along the jawline there is a smooth straight but sloping line connecting the two. As the female face ages, the volume in the cheeks is lost and the chin widens as the jawline develops jowls. The aging female face often becomes more rectangular in appearance, sometimes giving an older woman a more masculine appearance. This is sometimes why it is often thought that men's faces age more gracefully than women's. In men the rectangular feature is the youthful and in aging there is not much fat to be lost in the cheek. Fat grafting is a technique to restore the aging female face to the more youthful heart shape. Fat is optained using Vaser liposuction, which is the most gentle type of liposuction for fat grafting. The fat is then injected into the cheeks to help restore volume and raise the jowls. Caution is to be used in fat grafting for men. Lateral fat grafting in men's cheeks can cause a feminized appearance as seen in several high profile celebrities whose plastic surgery is obvious. In men fat grafting should be directed to the nasolabial folds and in the areas under the eye. If you are interested in restoring volume to your face, schedule a consultation with Dr. Khorsandi. Using 3D imaging we can show you how fat transfer to the face can help you hide the signs of aging.
Location