Meet Dr. Khorsandi - DocVegas™
Dr. Christopher Khorsandi, also known to as DocVegas™ is a board-certified plastic surgeon offering cosmetic, plastic, and reconstructive procedures for the breast, body, face and skin. He is the Chief Plastic Surgeon for VIP Plastic Surgery, one of the most reputable plastic surgery practices in the Las Vegas, NV area. Using an artistic approach and advanced surgeon skill, Dr. Khorsandi produces natural, gorgeous results for patients using proven and progressive surgical techniques. In addition, he also offers numerous nonsurgical options, including a customized approach to the liquid facelift, a procedure designed for patients who are not quite ready for surgery. Patients return to Dr. Khorsandi time and time again because of his endless compassion, dedication and commitment to excellence.
Dr. Khorsandi performs a wide range of procedures including liposuction and tummy tuck surgery, as well as breast augmentation, breast lift, facelift surgery and rhinoplasty. He is also experienced with revision and reconstructive plastic surgery. Dr. Khorsandi offers multiple nonsurgical approaches for patients with the latest line of injection treatments, as well as skin procedures such as chemical peels, laser skin rejuvenation, radiofrequency skin tightening, ultrasonic treatments, and dermabrasion. Unlike many practitioners, Dr. Khorsandi personally does all of his own skin injections, which allows him to provide tailored results for patients. Additionally, he has experience performing various male surgery procedures to enhance the figure of men in and around the Las Vegas, NV area. His goal is to deliver gorgeous, natural-looking results so that patients can look and feel their absolute best.
Always looking to achieve success in his work, Dr. Khorsandi was admitted to the combined B.S./M.D. programs at Villanova University and attended Temple University School of Medicine where he took an early interest in plastic surgery. He started a student chapter of Operation Smile while there, performed numerous early elective rotations in plastic surgery, and was a research assistant to the Chairman of Plastic Surgery. Following medical school, he trained at the highly esteemed Ivy League surgery program at the University of Pennsylvania. This program selects only 6 candidates from a pool of over 1,000 accomplished medical students each year. During this time, he had the privilege of working at Pennsylvania Hospital, the country's very first hospital, originally founded by Benjamin Franklin.
The advanced medical training Dr. Khorsandi completed took him to the Hospital of the University of Pennsylvania (HUP) and the Children's Hospital of Philadelphia (CHOP), two institutions that are consistently ranked as the nation's best hospitals by US News and World Reports. Dr. Khorsandi's experience in these hospitals provided him with the fundamentals of his surgical career. His hard work and academic achievements led him to be accepted into the Plastic and Reconstructive Training Program at the Cleveland Clinic in Weston. He spent two years refining his skills in Plastic, Reconstructive and Hand Surgery, and became the program's Chief Resident. He also co-authored a text chapter on wound healing and continued working on several research projects in the field of plastic surgery.
Looking to develop his skills further, Dr. Khorsandi went on to complete an Advanced Aesthetic Fellowship in Beverly Hills, where he learned how to perform some of the most challenging types of surgery, including revision plastic surgery. From there, he trained in Houston, TX in minimally invasive hand surgery and peripheral nerve reconstruction. Most recently, Dr. Khorsandi has pursued training in the groundbreaking techniques of migraine surgery.
Certifications and Memberships
Former President of the Las Vegas Plastic Surgery Society
Board Certified: American Board of Plastic Surgery
Active Member: The American Society of Plastic Surgeons
Active Member: The American Society of Aesthetic Plastic Surgeons
Active Member: The Rhinoplasty Society
Clinical Instructor: Vaser Liposuction
Clinical Instructor: Inmode Aesthetics
Chairman of The Board: Miracle Flights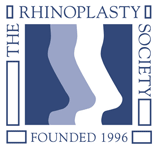 Dr. Khorsandi is a three-time recipient of the national "Patient's Choice Award" for his skills and a two-time recent recipient of the national "Compassionate Doctor Award" for his healing compassion. Both of these awards are esteemed recognitions announced by Vitals, a place where thousands of patients receive information to help guide them in choosing the right surgeon and/or physician. Additionally, some of Dr. Khorsandi's outstanding awards include:
Best of Las Vegas: Best Breast Augmentation Gold Medal Winner
Castle Connolly TOP Doc 2015, 2016, 2017
Vegas Inc. Top Plastic Surgeon 2015, 2016, 2017
Realself Top 100
Realself Top 500
Las Vegas Life Top Docs 2013
Vegas Inc. Top Plastic Surgeons 2014
HealthTap #1 Plastic Surgeon in Nevada Summer and Winter 2013
Patient Choice Award 2010, 2012, 2013
Compassionate Doctor Award 2012, 2013
Castle Connolly's TOP Plastic Surgeon 2013, 2014, 2015, 2016, 2017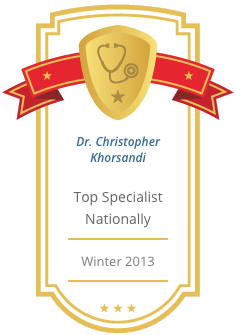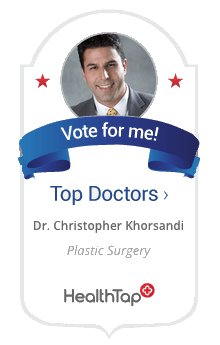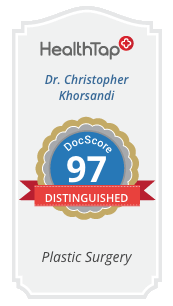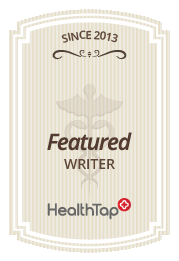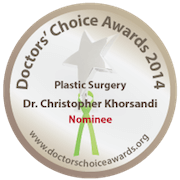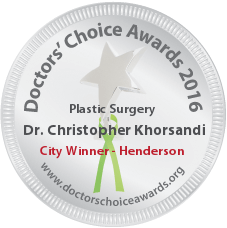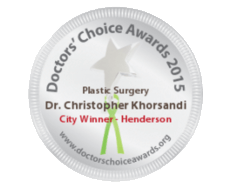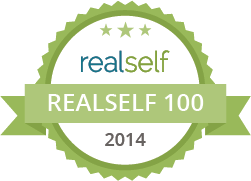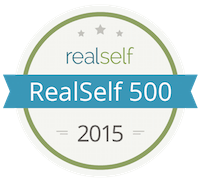 Privileges
Reviews
"Love, Love, Love Dr. Khorsandi. Did my lips. They look awesome."
S.G.
Office Visit
"Great surgeon. Caring, honest, professional. I had my carpal tunnel done, and then my breasts done by Dr. Khorsandi. We went to full C cup and they are spectacular. Can't even see the scar! Would recommend him to anyone :-)"
T.N.
Office Visit
"He did an amazing job. My co-worker went to him and also turned out great. I did my research and found Dr. Khorsandi. One of the girls in the office had her nose done by him last year and I have to say it really was an improvement. So seeing those results I felt confidant that I could get a similar result. I went to see him and found him to be extremely nice and very knowledgeable. He was able to describe in detail all the things that I could not put into words when describing what was wrong with my nose. It was like he was able to read my mind. He walked me through what he planned on doing and and saw some 3-D modeling pictures. I decided to take go all in. I highly recommend Dr. K. His training is by far the best and there is no one in Las Vegas that does anything even marginally close to his nose work. Trust me. Anther friend of mine went to one of the other guys in town a few years ago, who does a lot of breast and body work and now needs a second surgery to fix her nose. I would want it done the right way the first time."
P.L.
Office Visit
"Dr Khorsandi and his staff are the best out there!! I called other drs after my old saline implant ruptured and Dr K was the only dr that would see me right away and opened his office up after hours knowing I was upset. I visited 3 others in Vegas within a few days and I just trusted Dr K by the way he treated me and I just felt really comfortable right away with him. My implant replacements of gel were not only more real looking but my post op was so much easier than the first doctor I had in Florida. My husband met Dr K as well and was so impressed he trusted Dr K to give him his first tummy lipo. We are patients for life!! I recommended another patient to him already. You can trust Dr K and his staff!! There are not many doctors out there like Dr K!!! We feel really blessed to have found him!!"
Anonymous
RateMDs
"I am a migraine suffer. I've had devastating migraines for over 3 years. They have gotten so disabling that I lost my career in January. None of my neurologist's treatments were working and the drugs being prescribed were just making me sick. I met Dr. Khorsandi through the Migraine Relief Center. He and his brother Dr. Mark Khorsandi performed Nerve Decompression Surgery on me in June. The results have been incredible. I am so thrilled that I had this surgery! Dr. Khorsandi took a great deal of time with me during office visits, explaining the procedure and how a plastic surgeon was also a peripheral nerve specialist. I felt completely comfortable and at ease with him. They displayed nothing but professionalism and were great about calling me at home after surgery to follow-up. I found Catherine to be sweet, caring and she also called me right back when I left messages. My experience with this doctor was phenomenal. He gave me my life back. For that I will be forever grateful."
Anonymous
RateMDs
Related Posts