From Simple To Sexy. How Lip Fillers Can Give You The Lips You Desire.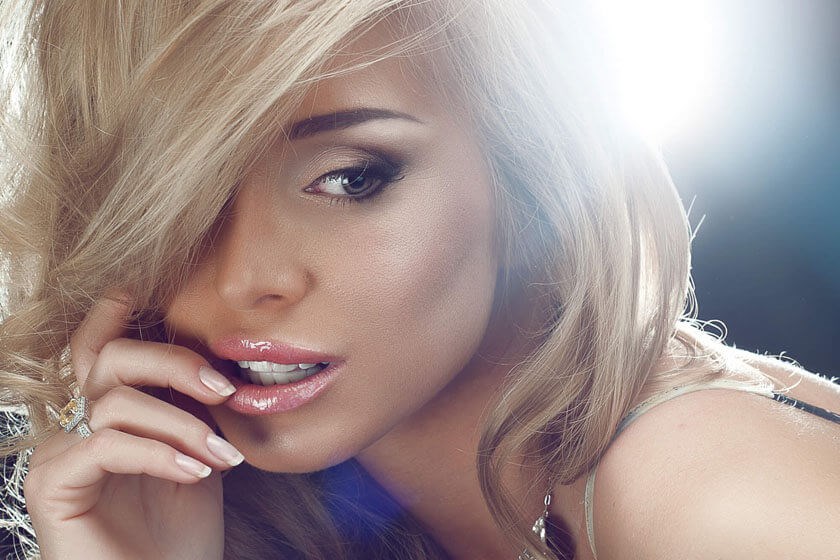 Lip fillers are all the rage these days. Everywhere you look you see women sporting fuller, plumper pouts. Envious lips are splashed on the covers of magazines, seen on television, and even in day-to-day interactions. All of this lip envy may have you questioning whether or not your pout could benefit from a little upgrade. Lip fillers are a quick, nonsurgical option that provides immediate results. With a few simple injections, Las Vegas plastic surgeon Dr. Christopher Khorsandi can help you obtain fuller, sexier lip you've always dreamed of.

So what are lip fillers and how do I get my lips to go from simple to sexy? Here, we explain how lip fillers can give you the lips you desire!
What are lip fillers?
Lip fillers (also known as derma fillers) are manufactured from various sources, such as hyaluronic acid or collagen, which are naturally occurring substances produced by the human body. While fillers can be used for a variety of great reasons, they are widely popular for lip augmentation. Used to enhance the volume of the lips and make them have a fuller appearance, while still appearing natural, fillers are a great way to give you the lips you want. The filler is injected into the lips after a numbing cream has been applied. The area being injected is gently massaged to make sure the filler spreads evenly. The procedure is quick and the results are immediate. Aside from a little temporary redness, your new sexier lips are ready for full display. While some Las Vegas area patients prefer to lay low in the immediate hours after treatment, you're free to resume your day as normal. It is recommended you avoid strenuous activities for at least 24 hours after the treatment.
Which lip filler should I go with?
The most popular lip fillers are Juvederm and Restylane. They each have different benefits and purposes based on your aesthetic needs or personal wants. Both fillers, and others are thoroughly discussed during the initial consultation. At that time, it can be determined which will work better to help achieve your desired result. If necessary, Juvederm can be spread to other areas once injected and results will last up to one year. Restylane is an FDA approved filler that remains localized which is better if you're trying to target on one specific problem area. Results from these common filler products will generally last about 6 months, and in many cases, up to a year. Regardless of which filler you decide to go with, you'll be able to walk out of our office with more confidence and larger, fuller lips.

Is lip augmentation right for you?
If you've found yourself staring at your lips in the mirror and longing for a sexier look and fuller lips, then you may want to consider lip fillers. Women who are tired of having to hide their thin lips by overlining them with lip liner may also be good candidates. If you've noticed your lips thinning as you age then you may also want to consider fillers. Over time lips can become deflated due to a loss of volume in the supporting tissue. This loss of volume gives lips a thin appearance. Lip fillers can change the appearance of the lips, by adding volume and making the lips appear fuller and plumper.
How big should I go?
Bigger doesn't always mean better, even in Las Vegas. We will work with you to determine the amount of filler that will be used to obtain your desired results. It's not advised to go from one end of the spectrum to the other. You'll want your lips to appear sexy and look and feel natural following the procedure. Since the fillers last 6 months and beyond you'll want to make sure you've put a lot of thought into how big you want to go. When you come back for your touch-up or next injection, you may know you want to go bigger and we can discuss how much additional filler to use.

Is it expensive?
The cost of your procedure will depend on the amount of lip filler that is used. A syringe of Juvederm can average about $675 and it may only take a single syringe to get the results you want. In some cases, where a much larger, dramatic outcome is wanted, it could take 2-3 syringes to reach your desired outcome. Our Las Vegas plastic surgery center offers great promotions throughout the year, which helps patients afford to keep their lips looking sexy while doing it within a reasonable budget.
What about lip implants?
While lip implants are a way to keep your lips full and larger year-round for years to come, the majority of patients will start their lip augmentation off with fillers. This way, they can attain fuller, sexier lips without surgery. After you have had fillers for some time, you may decide you want a more permanent solution. At that time, we can discuss implants. The goal is to attain a natural appearance that both looks and feels great. Lip augmentation can create those sexy lips you dream about!
How do I get started?
Schedule a consultation with our Las Vegas office today. You'll meet with Dr. Khorsandi and discuss whether or not you're a good candidate for lip augmentation. He will also work with you to identify your problem areas and decide which type of filler will help you obtain your desired look. Lip fillers can help enhance the size of your lips while also eliminating your insecurities. You may have experienced years of worry over your thin lips, but with a few injections, you can finally have a plump, natural-looking pout within minutes!