Go Big or Go Bigger. How Big Is Too Big When It Comes to Butt Augmentation?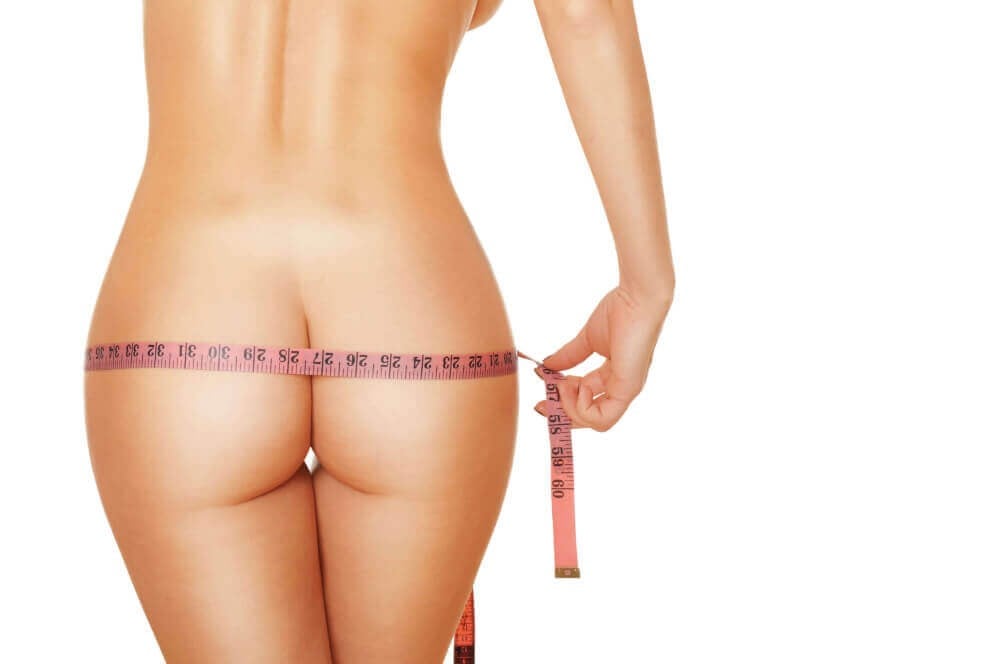 Gluteoplasty, also known as butt augmentation, is becoming increasingly popular among cosmetic procedures. A lifted, firmer, round butt can dramatically accentuate the backside of both men and women in Las Vegas. One of the first questions typically pondered among anyone thinking of butt augmentation is "how big should I go?". Much like with breast augmentation, size and shape are important considerations for most patients. Butt augmentation results can be a long-term solution to getting the shapely backside you always wanted, that's why making sure you get the right size for your particular body type is an important part of the process.
Consulting with a board-certified plastic surgeon is the first step towards getting the aesthetic results you desire. Board-certified plastic surgeon Dr. Christopher Khorsandi is Chief Plastic Surgeon at VIP Plastic Surgery in Las Vegas. An experienced, trusted plastic surgeon, Dr. Khorsandi is knowledgeable on how to produce a natural and gorgeous result for his patients using proven surgical techniques. When it comes to butt augmentation, either with silicone implants or via fat transfer, Dr. Khorsandi takes a custom approach to ensure the procedure meets the goals of each patient and their requested final aesthetic outcome. Below, Dr. Khorsandi shares some information on what factors go into determining the right size and shape for a butt augmentation procedure that fits you.
The main goal of butt augmentation
Butt augmentation procedures are quite popular today and with good reason. Who doesn't want a shapely, round, and firm butt? Simply stated, the primary goal of any type of butt augmentation procedure is to improve the shape and size of the buttocks. There are two main types of butt augmentation procedures:
butt implants utilizing silicone implants placed below the gluteal muscle

fat transfer, also commonly referred to as a Brazilian butt lift, which harvests the patient's own fat via liposuction from another part of the body and is reinjected back into the patient's butt
The type of procedure performed by Dr. Khorsandi will vary for each patient, depending on their body type and overall aesthetic goals. If a patient is thin and doesn't have much fat to harvest for a fat transfer, then implants will most likely be recommended. Other Las Vegas area patients who want a more permanent solution may opt for silicone implants over a fat transfer as the body eventually reabsorbs some of the fat that is reinjected and they may not keep that shapely backside as long as they'd like.
Long-term results with silicone butt implants
With today's butt augmentation options, results are more permanent and long-lasting. Silicone butt implants can look fabulous for 10 years or more. Patients who select silicone butt implants typically do not have enough fat that can be harvested for the fat transfer process and get better-looking results from this option. Implants can add more volume into a patient's backside, which is something that injections and fat grafting can't usually do alone. As previously mentioned, some of the fat that is harvested and re-injected as part of a fat transfer procedure may be reabsorbed by the body over time, which lessens the time of butt augmentation results.
Consider your body type
For patients in the Las Vegas area who are considering a butt augmentation procedure, it's important to keep in mind that the end result should be proportionate to their body. Everyone has a different body shape or type, which means that the look of one backside that you covet may not be a good fit for your particular body. The ideal buttock size, shape, and even surgical procedure should be determined based on your physique and under the guidance of an experienced, board-certified plastic surgeon, like Dr. Khorsandi. Your plastic surgeon should use high-quality implants that look and feel natural, which will be more apparent after swelling subsides. Typically, the end goal for anyone who undergoes a butt augmentation procedure, whether with implants or via fat transfer, is for the butt to look natural, lifted, round, and firm.
Body type and the butt augmentation procedure
Fat transfer techniques, like a Brazilian butt lift, have become a popular choice for butt augmentation. Patients get the benefit of adding volume to their backsides while eliminating fat and contouring other areas of their body. Liposuction is utilized in this procedure to harvest fat from and contour other areas of the body like the stomach or thighs. The fat is purified and then injected back into the buttocks where it adds shape and volume. This procedure is less invasive than that of inserting silicone implants, but is not a viable option for patients who are too thin and have no additional fatty tissue to extract in other areas.
Silicone implants, unlike the fat transfer, are comprised of a solid silicone material much like breast implants. Butt implants are surgically placed inside the buttocks, typically under the gluteal muscle, and usually add more volume than fat grafting or injections. Butt implants are suitable for any body type, but the main question is always how big should I go?
What size would be appropriate for me?
Much like with breast implants, patients get concerned about what size they should be. More patients today in Las Vegas want to make sure they get a size that is noticeably different. Women who are petite or small need to consider their body type and what will look appropriate with their smaller frame. Patients who are fuller up top with larger breasts or have a curvier figure can handle a larger volume to their buttocks. More active patients or those who are fitness-focused may not want to go as big, but instead may opt for a firmer, rounder butt on a smaller scale to match their active lifestyle. The best option is to consult with a board-certified plastic surgeon in order to determine the right size for your butt augmentation procedure and which type of augmentation will yield the best results.
Your plastic surgeon matters
As with any cosmetic procedure, finding the right plastic surgeon is key to obtaining the optimal results from a butt augmentation. It does matter which plastic surgeon you choose for your butt augmentation procedure. A qualified and board-certified plastic surgeon, like Dr. Khorsandi at VIP Plastic Surgery in Las Vegas, has performed numerous butt augmentation procedures, using both silicone implants and the fat transfer method. His vast surgical experience in this specific procedure can help determine the right size and augmentation technique that is appropriate for you.
Women and men in Las Vegas have a lot to consider when deciding to undergo butt augmentation. Working closely with the right plastic surgeon will help determine what size works best with your body type. Dr. Christopher Khorsandi is one of the leading plastic surgeons in the Las Vegas area and has performed numerous butt augmentation procedures that give his patients beautiful and natural-looking results. If you are interested in butt augmentation, we invite you to schedule a consultation with Dr. Khorsandi today.