What to Expect When Getting Lip Fillers in Las Vegas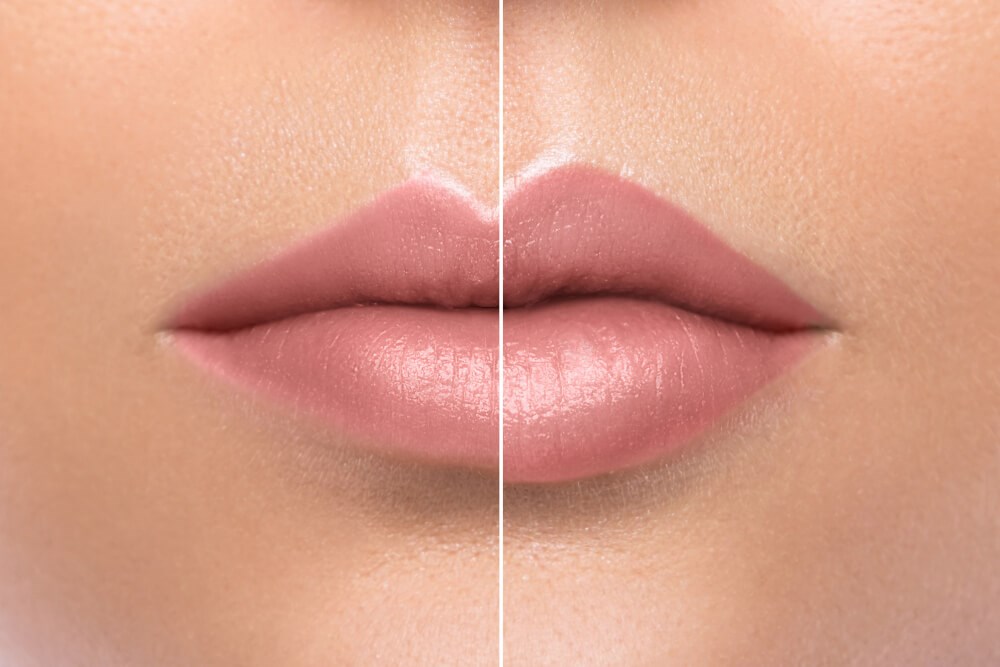 Ask most individuals about how they feel about needles and most will cringe and show their dislike for them. However, say what you will about needles, when most adults seek to improve their look, cosmetic injections are generally the top choice. Injectable fillers and wrinkle relaxers are both nonsurgical treatments offered by plastic surgeons and almost always performed with a needle. In fact, over 2.3 million injectable treatments were completed last year alone, making the needle sound a little more enticing for those hoping to turn back the hands of time and enhance their appearance.
There are numerous injectable treatments available today, but one of the most common and most popular are lip fillers to augment the lip. If you're thinking about enhancing your smile, here's some important tips you'll want to know about lip fillers in Las Vegas:
What to Expect from Lip Fillers in Las Vegas
Injectable lip fillers are a Las Vegas patient favorite because they offer great results with a short, convenient treatment. With a few simple injections using a fine needle, lip fillers in Las Vegas aim to add volume, size, and shape to your lips. Although there are a number of brands and filler choices to consider, with so many options, your plastic surgeon will be able to assess your lips, discuss your aesthetic goals in terms of size and look, and choose the right filler for you.
How Do Lip Fillers Work?
Lip fillers at our Las Vegas office work to "plump up" and better define the lips by adding volume to them. This can be done with an injectable dermal filler comprised of a substance such as hyaluronic acid, collagen, or fat. At our Las Vegas office, some of the most popular fillers we use to add volume to the lips includes Juvederm and Restylane. Using a proven, patented formula, these fillers smooth fine lines, fill volume where volume has been lost, and allow the lips to look larger and softer. When it's injected with precision, lip fillers can enhance your lips allowing for a luxurious, voluptuous, more youthful appearance. Most fillers last approximately 6 months, but depending on your body, they could last much longer.
What Can I Expect During My Lip Filler Procedure?
While it's an overall simple treatment, a lip injection is still a medical procedure. As a result, there are a few stages to the process.
Your Pre-Treatment Consultation
The first step to getting lip fillers is a consultation to determine if a filler is right for you. Your lips will need to be examined to make sure there is enough space and structure to hold a filler so that a natural outcome can be achieved. While the majority of patients are great candidates for lip fillers, some may actually need a surgical lip lift, which redefines the outline of the lip.
At your consultation, will also explain what you can expect during and after the procedure. You'll get instructions about how to care for your lips after the treatment and we'll be able to answer any questions you may have.
It is common for some patients to worry about whether their lips will look too large or unnatural or have a "duck lip" look once the filler has been injected. During the consult, we discuss these concerns, while choosing the appropriate filler and quantity so that a beautiful outcome can be attained.
Your Procedure
After you've had your consultation and you're on the same page with the surgeon, you'll have your injections. If you choose, you can start with a topical numbing gel. This reduces the sting of the initial sting made by the needle, but the filler also contains lidocaine to minimize pain throughout the treatment.
When you're ready, the surgeon will inject the filler using a syringe and place the product very strategically and precisely into the lips. Your treatment will be based on the desired results you discuss during the consultation.
On top of adding volume to your upper and/or lower lips, lip fillers performed in our Las Vegas office can enhance your lips' shape. When the filler is injected in precise areas, fillers can enhance your "cupid's bow" on your top lip. They can also give the corners of your mouth a slight upturn, producing a more positive, youthful resting look. When the treatment is finished, you'll receive a cold compress to ease any swelling. The entire procedure takes about 15-30 minutes.
What Can I Expect After My Lip Filler Procedure?
Because lip fillers are minimally invasive, you can return to work or other daily activities right away. There are some restrictions and temporary side effects that we will discuss at the time of treatment.
After your procedure, it is common to see redness and swelling in your lips. Some patients may develop light bruising in the treatment area as well. These effects will fade over the next few days.
For 24 hours after your treatment, you should limit strenuous exercise and keep sun exposure to a minimum. You should also avoid drinking alcohol for 24 hours. It's important to choose a qualified injector so that your results are even, smooth, and natural-looking. While the timeline varies, most lip injection results tend to last for about 12 months.
How Do I Know if I'm a Good Candidate for Lip Fillers?
Lip fillers in our Las Vegas office have a great track record of success, but the key is making sure you're a good fit. It helps to bring in photos during the consultation to show our team how large and voluptuous you wish your lips to be. In addition, it's important to understand that your appearance may be altered if you desire significant change. Some filler product requires patients to be at least 21 years old and older. Patients who are younger than 21 generally aren't candidates for lip fillers. If you have any known medical issues or use tobacco on a regular basis, this may also limit your candidacy for this treatment. During the consultation, be honest with our surgeon about your medical history and anything else you worry about that could affect your results.
Our goal is to create an outstanding result you are happy with that will be long-lasting and eye-catching!
The Next Steps for Lip Fillers
Lip fillers are one of the most popular cosmetic treatments in Las Vegas and for good reason. After a 15-minute procedure with no downtime, you can attain fuller, smoother, beautiful lips to enjoy for months. It's understandable to be nervous before a new treatment, but the details above can help you feel prepared. If you're ready to get moving and get your lip fillers in Las Vegas, schedule a consultation to learn more today!